Welcome to the Amazon Register website. The purpose of this website is to build and maintain a database of Volvo 120 vehicles and their owners. This register is open to all Amazons, including 121's, 122's, 130's, 123GT's, and 220's. Daily drivers, show cars, project cars, competition cars, and parts cars are all welcome to register with us.
Do you have one Amazon, or a yard full? Building a race car for those summer weekends? Finishing a life long restoration project? Or just keeping the old girl together enough to pass safety inspections and get you to work and back? We'd like to add your Amazon to our database.
If you wish to be listed on the Amazon Register, please use our submittable form. Tell us what model you have, chassis number, color, mileage, pet name, stock or modified, your name and location, and whatever else you feel is important about your car. Please note that no names or addresses will be published or released without your permission.
Amazon Register Roster Updated 10 November 2013
...371 Amazons now registered...
Amazon Production Figures and Serial Numbers
You can register now using this form...
Copyright © 1998 Bearman Motorsports

...All vehicle images Copyright &copy by vehicle owner...
...Image below Copyright &copy by submitting artist, and not to be re-used...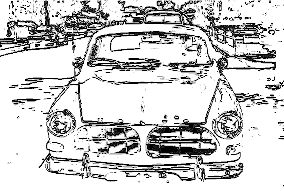 DISCLAIMER #1: The Volvo Amazon Register is an independently owned, operated, and funded database, and receives no support from Volvo Club of America, Volvo Sports America, Roundfender Register, or any other Volvo enthusiast club. There is no fee charged, nor is any club affiliation required to add your vehicle to the Volvo Amazon Register.
DISCLAIMER #2: This site is not affiliated with AB Volvo, Volvo Car Corporation, Volvo Cars of North America, Inc., or other Volvo companies whose products may be viewed in these pages. The use of the Volvo trademark/logo has been authorized by Volvo Cars of North America, 11 Jan 98.